Securicor Information Systems takes a new outlook on their marketing
Anderson Baillie's services were introduced to Securicor Information Systems through Anderson Baillie's project work with PITO, the Police IT Organisation.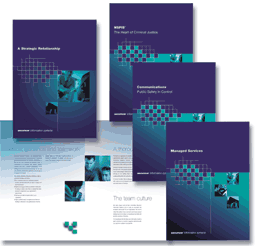 Impressed by the company's creative and project management skills, Securicor Information Systems invited Anderson Baillie to review its current marketing operations and aspirations. Employing Anderson Baillie's Business Growth methodology and benefiting from the experience of the Police IT sector gained through working with PITO and its technology vendors, Anderson Baillie audited Securicor Information Systems' current situation to arrive at a recommended marketing strategy. The agreed strategy was translated into an effective marketing communications plan. The first challenge facing both client and agency was to develop an effective brand and ID for the business, one which firmly positioned Securicor Information Systems into its marketplace whilst working within the confines of the corporate Securicor brand umbrella. The design team's solution achieved this objective and the new branding was launched and then rolled out across all Securicor Information Systems divisional companies.
Anderson Baillie continues to offer Securicor Information Systems a 'managed service' approach to marketing communications delivery working closely with internal teams to achieve best results and best value.